Terms and Conditions
This website Brother World Wide Web Site <https://www.brother.com> is provided by Brother Industries, Ltd., Japan ("Brother") and may be used for informational purposes only. By using these Web Sites or downloading materials from these Web Sites, you agree to be bound by the terms and conditions set forth in these Terms of Use. If you do not agree to be bound by these Terms of Use, do not use these Web Sites or download materials from these Web Sites.
These Web Sites include links to the web sites operated by affiliates of Brother. Use of such web sites shall be subject to the terms of use particular to such web sites. In addition, you may be required to agree with other terms and conditions (including but not limited to those of "End User License Agreement") when you download certain contents, which, in the avoidance of doubt and in the case of possible conflict, will prevail.
1.Use of Materials
Brother or third parties who have licensed Brother shall reserve all intellectual property rights (the rights which could be protected by the copyright law, the design law, the trademark law and other intellectual property laws) concerning any documents, programs, movies, animations, articles, sketches, drawings, software, databases, trademarks, logos and other materials available on these Web Sites (the "Information"). Except to enable your personal use of the Information available on these Web Sites as well as rights granted in terms of mandatory law, YOU ARE PROHIBITED FROM REPRODUCING, DISTRIBUTING, MODIFYING, DISPLAYING, SHOWING, PUBLICLY TRANSMITTING OR OTHERWISE CREATING DERIVATIVE PRODUCTS OF ANY OF THE INFORMATION, IN WHOLE OR IN PART, REGARDLESS OF FORM OR MEDIUM, WITHOUT PRIOR WRITTEN PERMISSION FROM THE INTELLECTUAL PROPERTY RIGHT OWNER(S).
2.Disclaimer
WHILE BROTHER USES ITS BEST EFFORTS TO INCLUDE ACCURATE AND UP-TO-DATE INFORMATION ON THESE WEB SITES, BROTHER MAKES NO WARRANTIES OR REPRESENTATIONS OF ANY KIND, EXPRESSED OR IMPLIED, AS TO ITS ACCURACY OR APPROPRIATENESS (INCLUDING WARRANTIES OR REPRESENTATIONS THAT ANY PARTICULAR IMFORMATION FITS YOUR PURPOSE OR THAT THE INFORMATION IS FREE FROM BUGS OR COMPUTER VIRUSES). BROTHER ASSUMES NO LIABILITY OR RESPONSIBILITY FOR ANY ERRORS OR OMISSIONS IN THE INFORMATION ON THESE WEB SITES. IN NO EVENT SHALL BROTHER BE LIABLE FOR ANY INFRINGEMENT, LOSS OR DAMAGES OF ANY KIND, INCLUDING BUT NOT LIMITED TO PC TROUBLE, LOSS OF DATA, LOSS OF PROFITS, LOSS OF BUSINESS OPPORTUNITIES, INTERRUPTION OF BUSINESS, OR FOR INDIRECT, SPECIAL, INCIDENTAL, PUNITIVE, EXEMPLARY OR CONSEQUENTIAL DAMAGES OF ANY KIND THAT RESULTS FROM YOUR USE OF THE INFORMATION ON THESE WEB SITES, YOUR USE OF ANY INFORMATION OBTAINED FROM WEB SITES LINKED FROM THESE WEB SITES, OR INABILITY TO USE THESE WEB SITES OR OTHER WEB SITES LINKED FROM THESE WEB SITES. PLEASE NOTE THAT THE INFORMATION ON THESE WEB SITES MAY BE MODIFIED OR DELETED WITHOUT PRIOR NOTICE.
3.Links to Other Sites
Any sites of third parties linked to or from this Web Site are not under the control of Brother and Brother is not responsible for the contents of any such linked site. Brother provides those links to you only for your convenience, and the inclusion of any link to a site does not imply endorsement by Brother of the site.
4.Protection of Privacy
Brother respects your privacy. When we collect or use your personal data, we will protect your privacy and adhere to our Privacy Policy

. As this Web Site may contain third party links, Brother shall not be held responsible for how your personal information may be used when accessing or visiting these linked sites.
5.Use of Cookies
A cookie is a text file that a web site transfers to your computer's hard disk so that the web site can remember who you are. Cookies only record those areas of a web site that have been visited by your computer and for how long.
This Web site use the following two types of cookies:
Session Cookies - these are temporary cookies which remain on your computer until you leave the Web sites and allow you to carry information across pages of the Web sites without having to re-enter information, all the information entered is immediately deleted.
Persistent Cookies - these remain on your computer after you leave the Web sites and the information is retained for your future usage.
You will be asked to accept or decline cookie, this you can do by modifying the setting in your browser. If you would like to do this, please see the help menu of your browser. However, you may not be able to use all the interactive features of our Web sites if cookies are disabled.
6.Trademarks
BROTHER, Brother product names, and service names are either a trademark or a registered trademark of Brother Industries, Ltd. The use of "brother" logo is forbidden without prior written authorization of the right holder. Other company names and product names appearing on these Web Sites are generally the trademarks or registered trademarks of each respective company.
"brother" logo: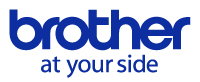 7.CAUTIONARY STATEMENT REGARDING FORWARD-LOOKING STATEMENTS
This Web Site contain forward-looking statements regarding the Company, including its business, objectives, plans, forecasts, assets, liabilities, and prospects for the future. "Forward-looking statements" may be identified by their inclusion of the words, "expect," "intend," "plan," "believe," "project," "estimate," "plan," "anticipate," "may," "will" or similar words or phrases of a future or forward-looking nature. Forward-looking statements address matters that involve risks, uncertainties and assumptions. Accordingly, there are certain important factors and assumptions that could cause our actual results or outcomes to differ materially from those indicated in our forward-looking statements. Such important factors and assumptions include, but are not limited to, the following: changes in economic conditions in any of the significant markets in which we operate, fluctuations in customer demand, changes in foreign currency exchange rates, tax rules and regulations, patent or other intellectual property infringement, technological shifts and advances, actions by our competitors, etc.
We assume no obligation to update or revise any forward-looking statement appearing on this Web Site to reflect new information we receive or events that occur following the date that such statement first appeared on this Web Site; accordingly, some of the forward-looking statements appearing on this Web Site may be out of date or may have been superseded.
Information on this Web Site is provided for informational purposes other than in connection with any offering of our securities in any jurisdiction, and nothing on this Web Site should be construed as an offer to sell or a solicitation of an offer to buy any of our securities. You should review the applicable prospectus, offering circular or information memorandum, consult your investment, legal and tax advisors and conduct your own due diligence investigation, before investing in any of our securities.
8.Governing Law
This notice is governed and controlled under the jurisdiction of the laws of Japan.
9.Inquiries
If you have any inquiries or comments regarding these Web Sites, please contact us from here.